Techmetics in-house Smart AMR Platforms/Solutions
Price starts as low as $9800

Techmetics family of Autonomous Mobile Robots (AMR)
Autonomous Mobile robot solutions to transport and deliver lab samples, medication, hospital supplies and much more enabling the staff to focus on 'caring'
Multi-purpose robots capable of handling anything from heavy linen to food supply deliveries allowing the staff to focus on other productive tasks and nurturing the people.
From transporting high-value chips, serving drinks and food, to being an attraction in itself, our robot solutions are a perfect investment for Casinos.
Dynamic autonomous navigation with round the clock delivery of linen, food supplies and anything a customer could request from the room. Our Multi-point delivery robots are a perfect solution for your hotel which can handle 3 deliveries in one trip.
An innovative way to attract customers to sell tickets, directory information, and vouchers. All this made possible even with less staff. Our robots are a boost to your business.
Requires no facility modifications and available with many customization options. High payload, cart automatic pickup, inventory tracking, etc. – Techmetics AMR logistics solutions have them all.
About Techmetics
Techmetics Robotics is the pioneer in Autonomous Mobile Robots (AMR) solutions for service industries such as Healthcare, Assisted Living, Hospitality, Casino and Retail industries. We are driven by the need to innovate solutions that are futuristic yet applicable in our present time. We are a robotics company on a mission to provide end-to-end autonomous delivery of goods. We've created a safe and powerful autonomous technology that can work in both public spaces and dynamic environments. We aim to see our products in every service sector possible catering to the needs with little to no supervision.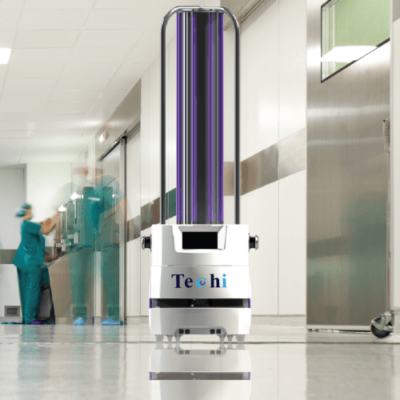 Techi UV Robots
Our UV robots are designed to disinfect premises killing bacteria and viruses on surfaces by breaking down the DNA structure – both airborne and droplet. The product destroys the pathogens in minutes and disinfects 360o.
Techi Butler Robots
Our Butler robots are multi-point, multi-purpose delivery robots for all your secured delivery needs in hotels, hospitals, assisted living, casinos, and retail facilities. Butler comes with three product variants to transport and deliver lab samples, medication, hospital supplies, food, amenities, files, casino chips and much more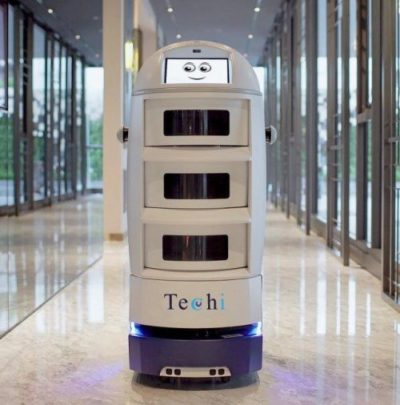 Techmetics Advantage
Superior Fleet Management system for Multiple Robots.
10 various robot solutions options.
Patented Liftbot technology.
Over 100 Robots deployed globally.
Payload selection from 100 lbs to 550 lbs.
Best after sales support provided.
Advanced elevator interface technology with top elevator manufacturers.