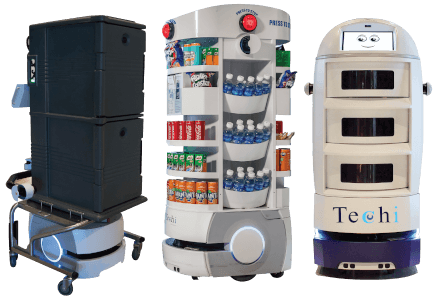 Products for secured Delivery and Assistance
We are changing the casino and gambling industry by automating the various manual tasks that will significantly reduce the cost and time. It will increase efficiency while also reducing the possibility of making mistakes. We provide products according to the demands of the customers.
Our robots are programmed to deliver chips and cards without any human assistance, thus reducing the cost of labor. Chips and cards delivery are secured with our metallic design and 3 layer safety compartments.
Techi Food Cart and Techi Serve is a great product to deliver food and beverages without you having to move from your place. Enjoy the food while playing cards; no need to move to get foods and drinks during the game.
Once you enter the casino, you do not have to worry about the directions. Our Techi Concierge is here to assist you where the game is played and which way to move to get to the game table. If you need reservations for the game, then Techi concierge might be of assistance to you in fulfilling your wish. It has the relevant software to do this task without any difficulty.
Fully autonomous vehicles
Superior Fleet Management system for Multiple Robots
10 various robot solutions options
Patented Liftbot elevator interface technology
Multi-point secured delivery robots
Payload selection from 100 lbs to 550 lbs
Tablet/computer based superior user interface software
Product supports multiple 3rd party interfaces